Hang Gliders and Equipment For Sale
Call 760-822-5667 or e-mail to: john@johnheiney.com




HOME


LOOKING FOR A GLIDER TO LEARN TO FLY ON?

If you are thinking of buying a cheap, used hang glider to practice with before taking your training, so you can save money on lessons; think again. Here is how it works:

You find an instructor by going to ushpa.aero. Click on "learn to fly" and you will find a list of schools and a list of indiviual instructors. You can contact anyone on these lists directly to arrange for lessons.

The school or instructor will have all the equipment (glider, harness, helmet, radios, wheels) needed for your training. You need not buy anything (except the training manual) to learn to fly. Use of all the gear is included in the lesson price.

It is very important to have an instructor guiding you from your first run on the training hill. Flying is not intuitive for humans. We were not meant to fly. It takes serious effort to learn something that is so un-natural for us. At best, you will inculcate bad habits. At worst, you will break a very important bone, so instead of gaining the freedom of flight; you might lose the freedom of walking.

By definition, a teacher is one who has knowledge of a subject, and can impart it to others. By logic, if you have no knowledge of the subject then you are not a teacher and cannot teach yourself. You can learn some things by trial and error. I strongly advise against learning to fly by trial and error. While the trials are free, the errors can be costly, painful, crippling or fatal.

No one tries to learn on their own, mainly because doctors charge a lot more than hang gliding instructors.

See Red's website for futher advice on learning to fly hang gliders.





Wills Wing Fusion SP 141, Serial number 36590. Blue and Black asymmetrical "WW" bottom surface. For pilot weighing 145 - 220 pounds. 65" downtubes. Type 3 airfoil. Test flown by Rob Kells. Spring rib tips. Orange Sensor tail. Winglets and tip fairings included. Rib Chart and manual. Very good condition. Located in Eureka California. $1000 or trade for Airwave Pulse 10 or 11 Meter in very good condition. Call Leon mornings or evenings 707-443-2018.
Moyes Sonic 190, This is the intermediate glider from Moyes. It has a 5.6:1 aspect ratio. This one has the optional VG. The airframe is 7075-T6. It has round downtubes. It has mylar leading edge cloth. The rest of the sail is dacron. For an intermediate pilot weighing 160-240 pounds. Excellent sink-rate, excellent handling, nice landing glider. In very good condition. Has some leading edge rash as shown in pics. This glider has the "Outboard" VG system(designed by Juan Corral) so the side wires never go slack and the anhedral does not change with the VG setting. I did a complete inspection and test flight on this glider. It flies great. If you're not too heavy, you can get above most pilots with this thing. Located in San Diego. $1150
UP TRX 160, This is the ledendary first carbon fiber airframe glider from UP International. 8:1 aspect ratio, advanced-rated high-performance glider from the 1990s. For an intermediate to advanced pilot weighing 160-260 pounds. Excellent sink-rate, very good glide ratio, excellent handling. This is the first design (front haul-back) manufactured in 1990 - 1992. It has been well taken care of and in dry storage. This glider has only 20 hours on it. It is clean and in excellent condition. Rib chart and manual included. $1100.
Delta Wing Dream 185, Biginner / training (or advanced fun) single-surface glider for light to medium-weight pilots. This is considered the best model of the Dream line. Mark West provided the majority of the genius behind the design and developement of the 185 Dream. The Dreams were made in sizes 145, 165, 185, 205, 220, and 240. Manufacture date circa 1987. Sweet-flying glider. Great handling. Great conspicuity for collision avoidance. For pilots weighing 130 to 220 pounds. Excellent sink-rate. This glider will out-sink and out-glide the most popular training glider of today. Excellent condition. Flight manual and rib chart included. I did a complete inspection, re-assembly, detailing and test flight on this glider. $1825.
UP Comet 185 An oldy-but-a-goody. This is a very clean expample of the original large-size Comet. Light blue bottom surface, gold top front and a white trailing edge. 50 hours. No tears in the sail. A few minor scuffs. Both uprights un-bent. New spare upright included. Inspected, test-flown, nearly-new condition. For an advanced-rated pilot weighing 200-270 pounds. I did a complete inspection, re-assembly, detailing and test flight on this glider. $1390.
Wills Wing Z-3 pod harness. This is a nice pod in very good condition with lots of extras. All structural stitching is 7-class, A good strong harness. Fits a smaller pilot around these dimensions: height=65 1/2", shoulder=55 1/4", under-arm=48", chest circ=37"(tight), from top of shoulder around body to floor=57". One or two inches either way might still work. Internal storage container, external storage pouches, steel carabiner, Antron interior cloth, in-flight adjustable pitch angle. A new one like this would cost more than $1000. $420 (includes shipping within the USA)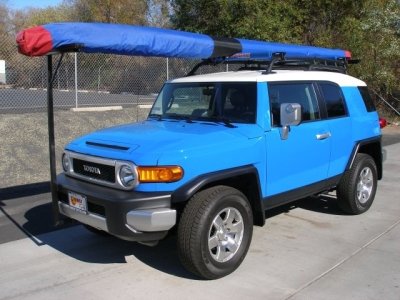 Glider Rack for the FJ Cruiser Front and rear uprights. The rear rack plugs into the stock hitch receiver on the FJ Cruiser. The front rack receiver is missing and needs to have one fabricated. Racks are uphostered with 1/2" thick foam and black vinyl material. Complete with strap stops to keep the straps from slipping off the ends. $300 for both. The Thule roof racks (pictured) also available $120
HOME
Nico-press Tool Excellent condition, Little used, This is the original one by National Telephone Supply Company, Carry pouch included. $150 plus $25 shipping.
Compleate Wills Wing HP-AT rib set, used, good condition, $225 plus shipping
TRX 160 Sail, Well used, but still has some hours left in it. White black-diamond mylar leading edge cloth. Tip Fairings included. These are the rare, original fiberglass and foam units that are lighter than the later plastic ones. $300.
I need a 185 or 205 Dream for teaching. Please call or E-mail me if you have a Dream that you do not need anymore. Thanks.
BACK TO TOP OF PAGE
HOME